COA Software with a Budget-Friendly Price Tag
Certificate of Analysis reports are required when shipping ingredients in industries such as chemicals, coatings, food, supplements, plastics and other specialties. Shippers must present their COA data using layouts dictated by their customer's which results in the need to manage libraries of documents and spreadsheets while ensuring the underlying data is retained for regulatory purposes.
Avoid the cost and complexity of these tasks by using our budget-friendly Certificate of Analysis software which will allow your organization to:
Create and manage an unlimited array of Certificate of Analysis forms that include boilerplate text, graphics and data.
Enter, archive and analyze all the data that is used in generating your Certificates of Analysis.
Setup and maintain the variations of data subsets specific to items and customer requests so that the repeatable generation of Certificates of Analysis is efficient, accurate and easily retrievable.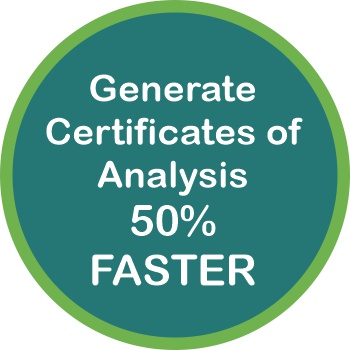 Build a Better COA - FAQs
Choosing the Right Solutions for Your Industry
Food
In food production, the data required for a Certificate of Analysis will vary depending on whether the materials certified are raw, process or packaged goods. Certificates of Analysis play a critical role in the food safety chain.
Chemical
For manufacturers in chemical and aligned industries integration of people, equipment and products generates a flood of data. Choosing the right software to create Certificates of Analysis for Chemicals is a key in improving efficiency and eliminating error.
Guide to Building a Better Certificate of Analysis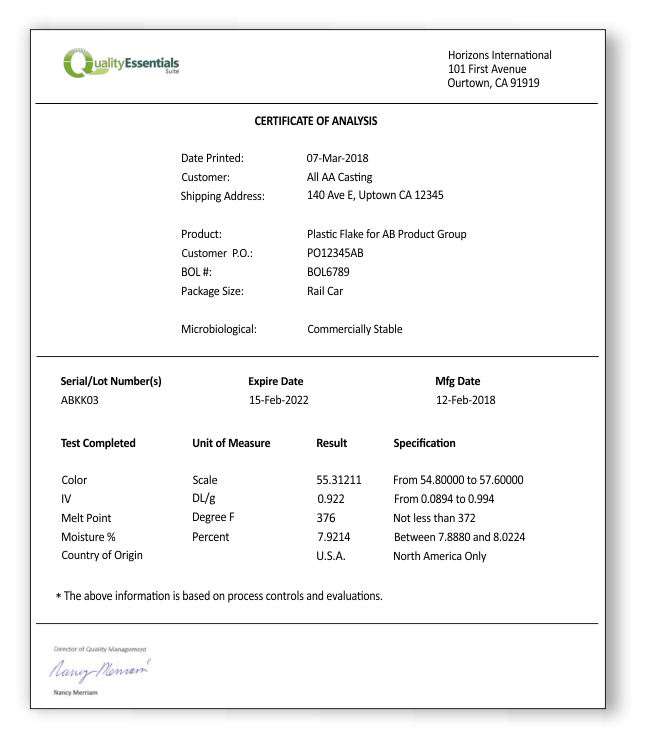 Our budget-friendly Certificate of Analysis software delivers confidence that you can quickly generate accurate reports during shipping that demonstrate your products meet or exceed customer specifications.
Explore the features in our sample report. See how easily you can include the data needed to meet each customer's specific requirements in a cost-effective, error-free manner with the Certificate of Analysis functionality found in our Data Management module.
Don't be burdened with methods and tools that fail to scale your business effectively. Using a "free" spreadsheet-based system costs your organization more than you realize. Talk to us today to determine if your organization is spending too much time creating Certificates of Analysis for your customers and see a demonstration of our proven COA creation software.
Elements of our Certificate of Analysis Solution
If your organization is burdened with methods and tools that have become increasingly unwieldy and are failing to scale effectively, our Certificate of Analysis functionality may be the right solution.
Document Layout
Layout is the final presentation of the document as required by your customers. Included in our Certificate of Analysis (COA) software is a report designer that allows your team to create and track different layouts to meet individual customer needs. To make layout generation easy, we provide four starting layout templates you can modify and customize an unlimited number of times.
User-Defined Fields
Your customers often require specific or unique information on their COAs to help them track materials, deliveries, and other internal processes information. We provide twelve user-defined data fields to customize the COA.
Archive & Search Grid
All generated COAs, source data, certification identification numbers, and PDF copies are maintained and archived in the database tables. Access to historical data is achieved via smart grid tools that provide access to all relevant data for search and inquiry purposes.
Data Template
A data template is a subset of your quality data, selected and grouped for presentation on a Certificate of Analysis; templates can be assigned to one or more layouts. When you create a COA, real-time data values are retrieved and used to satisfy the criteria defined in the data template. This fluid combination of presentation and data makes it easy to generate reliable, repeatable, and accurate COAs on a timely basis.
Configurable Data
The data required on a Certificate of Analysis varies by customer and may include the customer's part number, 'sell as' code, and lot or serial trace identification. The standards the certified material must meet can also require configuration to either internal production standards or customer-specific standards. Our configurable data selection functionality allows users to select the correct configurations required to meet a specific need.
Multiple Methods of Delivery
You can deliver completed documents to end users and customers in physical paper form or as electronic documents – PDF & XLS files – via email.
Ready to see us in action? Request a free demo today and in a short 20-minute conversation you can learn more about how you can stop worrying about the issues in your quality management systems and affordably gain greater control of necessary tasks.
Contact Information
SALES
sales@qualityessentialssuite.com
+1 (866) 949-9504, ext 811
SUPPORT
support@qualityessentialssuite.com
+1 (866) 949-9504, ext 2